Cash Buster Towers the new IWG game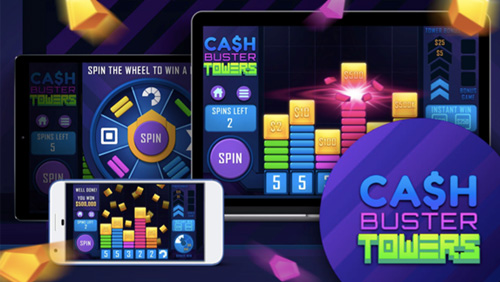 IWG, a world leader in supplying online, instant win games, has announced the release of Cash Buster Towers™, the latest game in the hugely successful Cash Buster family.
Themed around explosive coloured bricks, players blow up the bricks and topple the towers to win.
Cash Buster Towers™ features a range of exciting new features that are sure to make this game an instant hit. A spin button explodes blocks arranged in towers that when collapsed release huge prizes up to £1,000,000.
The unique bonus rounds are triggered on the main reels when 4 stars or arrow symbols are awarded, offering the players the chance to unlock free spins, explode more tower blocks or win cash.
Collect 4 or 6 circle symbols and players can win instant cash up to £1,000, while they can also buy an extra spin to keep the fun going.
About IWG
IWG is a world leader in supplying online, instant win games to lotteries and commercial brands and platforms in the online gaming industry. It has over 12 years' experience of making top selling, high quality instant win games and the strategic know how to make them work.
IWG has launched over 300 games that perform consistently at the highest level, engaging and retaining players while driving excellent results for customers. It has the knowledge to deliver a winning portfolio of games, the experience to make it grow and the sales figures and data to back this knowledge up.
IWG delivers an end-to-end solution covering all aspects of game development and portfolio management and a Remote Game Server (RGS) delivering content in multiple regulated jurisdictions from data centres in the UK, Gibraltar, Canada and North America. It has a broad library available via the RGS with games covering many proven themes and mechanics that can be developed into an ideal offering for a partner's instant win portal.
In IWG launches Cash Buster Towers
Visit our Casino Reviews for further information or click "Get Bonus" to start playing for real.