Daniel Daniyar Joins WPT Champions Club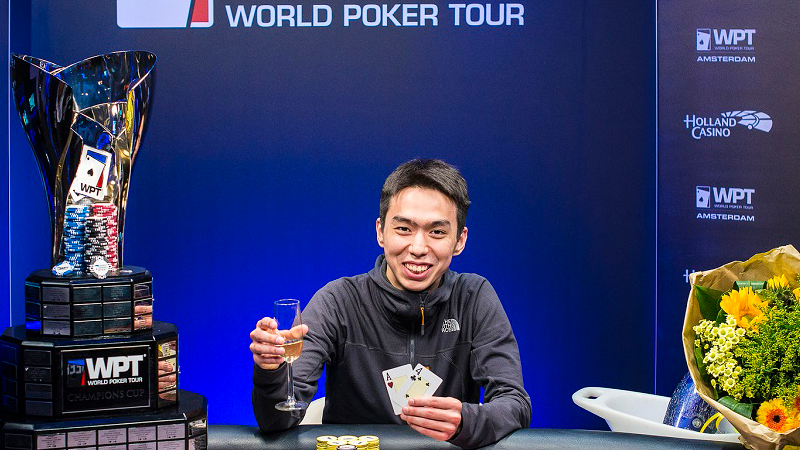 Daniel Daniyar of Kazakhstan was the winner of the WPT Amsterdam Main Event with € 152,600 in prize money, ensuring his entry into the WPT Champions Club in style. The player's playing style was marked by moments of aggression and moments of quiet anticipation for the right time to speed up action.
Daniyar entered the final day of the prestigious tournament second in chips, with local player Jan Jansma being the only one ahead. However, it all showed that Daniyar was determined to do something big and as it can be seen he managed to achieve that with great play and with tiny push from Lady Luck.
The Kazakh played his way to heads-up in a spectacular manner. He was responsible for three of the four pre-heads-up eliminations. Daniyar eventually faced Louis Salter from the UK. Poker enthusiasts may find the Salter family name quite familiar and they would be right. Louis is the younger brother of poker pro Jack Salter. The younger Salter has certainly learned a lesson or two from his sibling as he put up a good fight last night.
Heads-up between the two men seating at the WPT Amsterdam Main Event's final table began with Daniyar holding a commanding chip leader over his opponent. Here it is important to note that the eventual winner was actually the player to set the heads-up match.
He did so by eliminating overnight chip leader Jansma in third place in a hand that simply needs to be presented to those who did not watch the event's livestream or recalled to those who did.
The hand unfolded with Jansma raising to 155,000 pre-flop and Daniyar three-betting to 650,000. Jansma then shoved and his opponent called. Jansma tabled [Kh][Kd] against Daniyar's [3s][6s]. The flop ran out [6d][3c][4h], giving the latter excellent advantage. The [4c] appeared on the turn to give Jansma the better two pair. A trace of smile appeared on the player's face, which was quickly erased by the [3h] that ran out on the river, securing Daniyar with a full house and a participation in the heads-up match.
Two-handed action saw the chip lead swing back and forth several times, despite the eventual winner's initial lead. Daniyar said in his post-victory interview that he fancied the adrenaline surge that came with losing and regaining advantage throughout the course of play.
The moment of triumph came with Salter moving all in for his final 1.5 million. Daniyar called quickly. Salter tabled [Jh][8c] against Daniyar's [Ah][4c]. A blank [10d][3d][2c][Kh][6h] board eliminated Salter in 2nd place for €106,710.
In Daniel Daniyar Joins WPT Champions Club with 2017 WPT Amsterdam Main Event Victory
View our casino reviews or click "Get Bonus" for further information.