Paul Petraglia Wins WPT bestbet Bounty Scramble $5,000 Main Event
Paul Petraglia wins his first WPT cash of $315,723 and have his name engraved on the WPT Champions Cup.
Petraglia emerged the victor after a heads-up match against defending champion Sam Panzica, denying the latter the chance to become the first player in the WPT history to win the same event twice.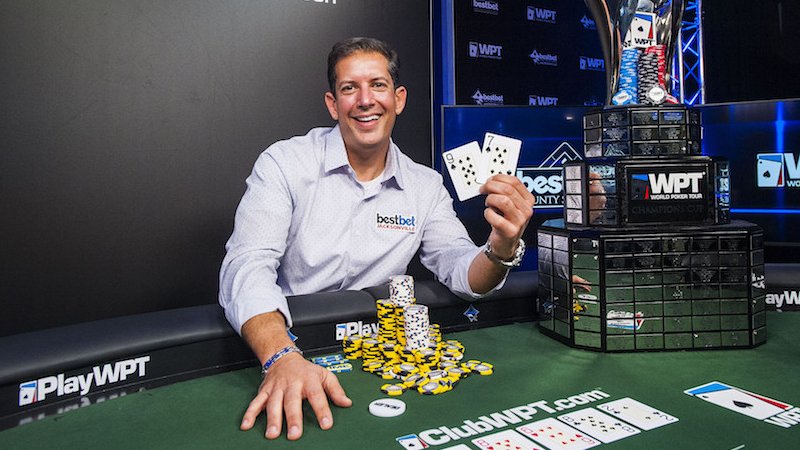 There were six players left in contention on the final day of the Main Event, with three-time WPT champion Darren Elias and two-time WPT champion Sam Panzica being among those. It was in fact Elias who led the six finalists into the final table. Eventually, he finished 3rd and was denied the chance to become the first player to win four WPT titles.
Petraglia entered the final table third in chips. He said in his post-victory interview that he had two main goals – to deal with the short stacks and to steer away from Elias for as long as it was possible. Petraglia admitted that both the three-time WPT champion and Panzica were tough players. The eventual Main Event winner even revealed that he tried to do some research on both players in order to be able to handle them properly over the course of the final day. As it can be seen, his efforts paid well.
The heads-up duel between Petraglia and Panzica was set by the latter, who eliminated Elias in third place. Panzica entered the two-handed match with 4.19 million in chips to his final opponent's 5.515 million. And it was quite a long match, during which chips went back and forth and the chip lead switched hands on several occasions.
It took 96 hands and several hours of battling before the name of the champion became known. On what turned out to be the final hand in play, Petraglia raised to 350,000 pre-flop and Panzica called. The [8h][6h][5d] appeared on the flop. Panzica checked, while Petraglia bet 400,000. Panzica shoved for his last 2.35 million and Petraglia snap-called, tabling [9s][7s] for a nine-high straight. Panzica turned over [Jh][3h], praying for a heart to better his opponent's hand. The [8c] landed on the turn and the [2c] appeared on the river to end all hope for Panzica. The player left in second place, good for $210,783, while Petraglia switched into celebratory mood.
In Paul Petraglia Wins WPT bestbet Bounty Scramble ,000 Main Event
Explore our Casino Reviews for detailed information or click on "Get Bonus" to start playing for real money.