Upeshka De Silva Wins 2017 WSOP $3,000 No-Limit Hold'em Shootout
A 369-person field was not strong enough to stop poker pro Upeshka De Silva's march to a second WSOP gold bracelet. The player claimed the gold and a first-place prize of $229,923 after emerging the victor from Event #3: $3,000 No-Limit Hold'em Shootout, a tournament representing one of the innovations at this year's World Series of Poker festival.
De Silva added his most recent gold bracelet to the one he won precisely two years ago for taking down a $1,500 No-Limit Hold'em tournament.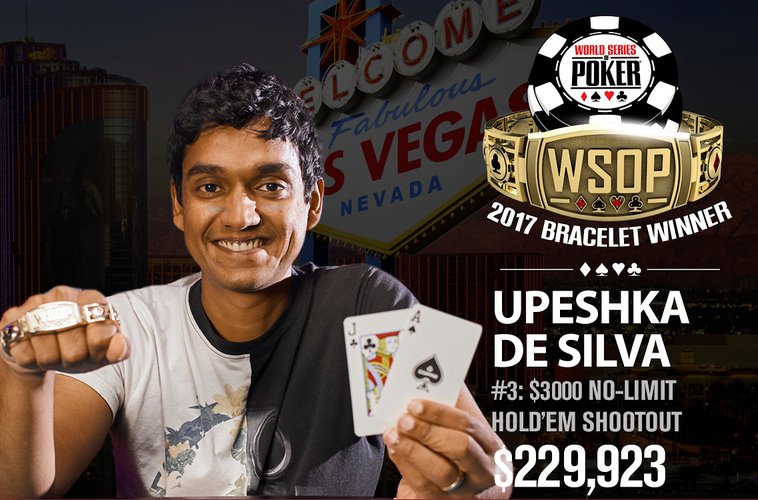 The three-day Shootout was the first event of this kind to be taking place during this year's edition of the Series. Under its structure, only individual table winners were able to progress to the next stages of play. De Silva won three consecutive rounds to secure a seat among the final ten.
All ten finalists started final table play with even stacks. However, it became clear very quickly that De Silva and Louis Helm, who eventually ended up as the runner-up finisher, would be the ones to dominate action. Day 3 began with De Silva gaining momentum and eventually accumulating more than a half of all chips in play.
Heads-up lasted 51 hands, during which the two players were trying to outwit one another. Asked about his opponent, De Silva described his strategy as one that involved limp/re-raise/going all-in action that the eventual champion tried, and oftentimes struggled, to isolate.
The moment of triumph came when the two players went all-in pre-flop, De Silva holding [Ad][Jc] against Helm's [Ad][8h]. De Silva's hand help up all the way through the river, when a [Jh] ran out to solidify his victory.
Texas has turned into a home for De Silva, as well. Of his plans, the gold bracelet winner said that he will stick to Las Vegas for the rest of the Series and will then travel around the world for one major event or another on the 2017's tournament calendar. The player also revealed that between his poker journeys he will also find time to tie the knot with his fiancée.
In Upeshka De Silva Wins 2017 WSOP ,000 No-Limit Hold'em Shootout
Explore our Casino Reviews for detailed information or click on "Get Bonus" to start playing for real money.