Japan Legalized Casino Gambling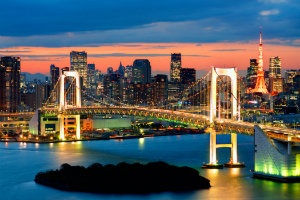 Japan legalized casino gambling within its borders. It has become known that some of the big players on the global gambling scene have initiated lobbying efforts to lure local investors and potentially win a casino license when the country is ready to grant such permissions.
As Reuters has reported recently, MGM Resorts International and Hard Rock International are among the major casino operators to have started their quest for suitable local partners. Las Vegas Sands and Genting Group are the other two giants to have expressed interest in entering the local market when this becomes possible.
And all interested parties may have to a wait for a little while before setting foot in Japan. In December, the Japanese Diet approved only one of two planned bills that are to pave the way for casino gambling in the country. The Promotional Integrated Resorts Bill, as the approved legislative piece has officially been referred to, legalizes the provision of casino gaming options in the country but does not set the regulatory framework under which said operations will be conducted.
A second bill will provide the necessary requirements for the construction of integrated casino resorts in the country and for their operation, once built and launched. It is still unclear when exactly this other legislation will be voted on, but casino proponents have expressed hopes that Japanese lawmakers would not need another three years to pass it as was the case with the promotional legislative piece.
Japan is expected to open its market for up to two integrated resorts with gambling, accommodation, retail, food and beverage, and entertainment options. The properties are to be located in big city metropolitan areas, possibly in Tokyo, Osaka, and Yokohama. As noted above, international operators will likely look to establish joint ventures with local partners to build and operate the properties together.
It is believed that Japan's casino market holds the potential to turn into the world's second largest one. According to analysts, annual revenue of between $10-$20 billion could be generated from its future casinos. This is why it is not a surprise that some of the world's best known integrated resort developers are eyeing the Pacific Ocean nation.
In Major Casino Developers Step Up Lobbying Efforts to Enter Japan's Market
Before traveling to Japan visit our Online Casinos, and find out the best games and bonus.